This past week the Noodle crew and I paid a visit to two local eateries in search of authentic Chinese/Italian cuisine.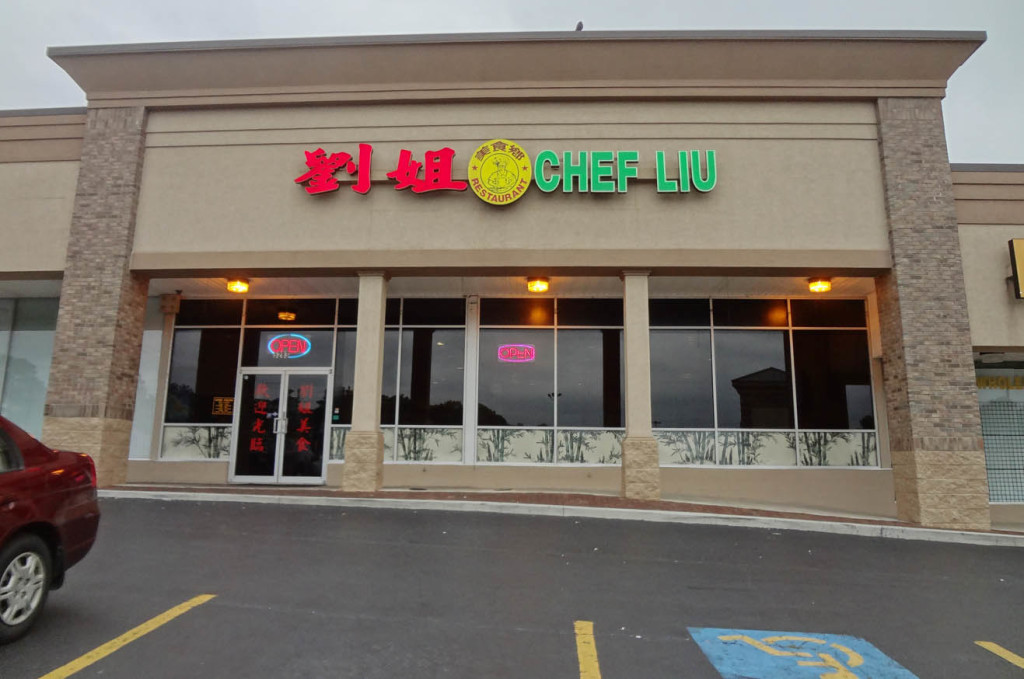 On Monday, I set Liu's as my destination, and, after being directed past the restaurant by Maps, made it in time to witness my classmates and instructors surrounding a wide round-table stacked with enticing plates. There were steamed buns, thin noodles, wide noodles, cold noodles, soup
noodles, soup dumplings, onion cakes and jasmine tea accompaniment, with more on the way. The decor was standard Chinese fare, with a curious grid of inactive televisions walling the back. Liu's location and interior reminded me of our reading on the difficulties faced by authentic Asian restaurateurs. Besides P.F. Chang's, Chinese restaurants have in my mind the expectation of small, humble establishments tucked away somewhere in an oriental district. In fact, I've had similar experiences with truly authentic Italian food; the local mall in my hometown just so happens to have both a Maggiano's and P.F. Chang's out front, when nearby I have eaten much more exciting food from small, unnoticeable spots.
Baraonda's provided much food for thought when making comparisons to Liu's.
One example is how much easier it is for an Italian restaurant to market itself as high class. It could be the wine, or the Euro-pastoral aesthetic so embraced by our culture, but certainly there is more to it than the food. I found Baraonda's to be delicious, yet coming from a life full of delicious Italian and Sicilian cuisine, I wasn't won over. Still, telling from the sheer variety of pasta we were served, from lasagna to campanelle and fettuccini to penne, it was clear that Baraonda represented the modern creation of "Italian" food. No longer regionally polarized, the dishes are introduced to and accepted by Americans as part of the whole peninsula's repertoire.
The portions and prices certainly distinguished themselves from Liu's; there, I walked away stuffed and guilty, while Baraonda's had me trekking for gelato afterwards. I found this interesting, considering what we previously learned about Italian and Chinese cultures: the Chinese emphasize balance and chide overeating, while Italy thrives in the pleasure of belly-filling lunches. But back to gelato. I very much enjoyed how the experience of Italian food expanded to outside the bistro and to the other side of Atlanta, in Ponce City Market where three classmates, my friend Tori and I discovered Honeysuckle Gelato. I would argue this satisfied me even more as a taste of Sicily. I ordered the most tantalizing thing on the menu– honey fig and pistachio– and was delighted with rich, creamy gelato textured with real figs and pistachio. It truly reminded me of Sicily, especially in the duo of flavors which I am very familiar with as Sicilian staples. But coming from our discussion at Liu's on Trump and immigrants, and the readings on Blackboard, it was too much to ignore the unsavory aspects of this tradition. I was surprised to read that figures I know such as Charles Dickens and Booker T. Washington had visited Sicily and had little positive to say about it. My grandfather came from a humble background in Sicily, but was able to quickly acquire great wealth and opportunity in America. The Sicilian culture familiar to me is more reminiscent of the aristocracy, rather than the agricultural poor who's penury could not offer the chance of delicacy.